Support LTHS Pride Walk, Brick by Brick
Reserve your memory today!
Whether you are an alum, student, friend, or staff member, you are embraced as family at Lyons Township High School. Since 1888, our vibrant community has thrived because of your notable contributions — in the classroom, on the sports field, at special events, and through generous gifts.
You can help bring together and honor our unique LTHS family in the Pride Walk located at the SC football stadium front entrance, stadium concession area and by the NC Vaughn Building, on the east side near the pool entrance.
Where Memories Live and Legacies are Honored.
Purchase a brick paver in the Pride Walk to commemorate special memories and recognize those who have made LTHS the distinguished school it is today and will be for generations.
Your brick purchase will help support valuable opportunities for Lions from academics and athletics to arts and activities. Generations of men and women will continue to receive an excellent education at Lyons Township High School through your support of the Pride Walk.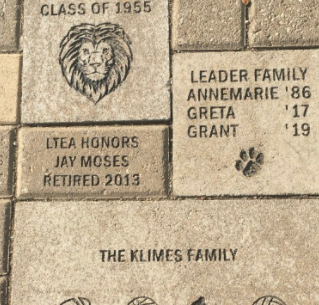 Commemorate Someone Special
An engraved brick for a family member or friend can recognize birthdays, anniversaries, graduations, memorials, retirements, Father's Day, Mother's Day… or, consider purchasing a brick to commemorate a beloved teacher or coach, a sports championship, special award, achievement or milestone.
To order your Pride Walk Brick, you'll fill out a form with your individualized brick specifications and then you'll be taken to the LT Boosters shop to purchase the brick.